Jump to a Topic:
Monsanto Roundup Lawsuit Overview
In 2015, the World Health Organization (WHO) classified glyphosate as a probable human carcinogen (meaning glyphosate likely causes cancer).
In 2018, a California jury awarded $289 million to a former school groundskeeper. He claimed that years of exposure to Roundup had given him terminal non-Hodgkin's lymphoma. This verdict included millions in punitive damages to punish Roundup manufacturer Monsanto for its behavior. This was the first Roundup case to go to trial.
In the years since, the number of lawsuits against Monsanto — and Bayer AG after it acquired Monsanto in 2018 — has grown to tens of thousands.
In July 2021, Bayer announced that it would remove glyphosate from residential products in the U.S. effective January 2023.
Roundup Lawsuit Update 2023
As of November 2023, Monsanto has settled over 100,000 Roundup product liability lawsuits, and another 40,000 are still pending.
Most of the remaining cases are individual claims alleging Roundup use caused non-Hodgkin's lymphoma or soft tissue cancers. More than 4,000 claims are part of a multidistrict litigation (MDL) in California.
Did you know?
An MDL is when the courts combine many cases with the same defendant or defendants to streamline the litigation.
An MDL differs from a class action because plaintiffs in a class-action lawsuit have a few representatives and common injuries. Think of it like the plaintiffs and defense having all their cases combined in a class action.
In an MDL, all the defenses are consolidated, but each plaintiff still gets to present their own case.
Two recent verdicts have gone in favor of Roundup users and against the manufacturer:
On October 31, 2023, a California jury awarded $332 million to a man who was diagnosed with non-Hodgkin's lymphoma at age 51 after using the weedkiller. The award included $325 million in punitive damages.
A Philadelphia jury awarded $175 million to an 83-year-old man with non-Hodgkin's lymphoma on October 27, 2023. That verdict included $150 million in punitive damages.
Settled Cases Against Monsanto and Bayer
Bayer has settled most Roundup lawsuits that have been filed for approximately $11 billion. These settlements account for nearly 80% of pending Roundup cancer claims, though more are filed daily.
Roundup Settlement Amounts
Settlement amounts are usually kept secret through agreements when the settlement is reached. This makes it difficult to know how much Bayer pays to settle individual claims.
A recent lawsuit gives some insight, however. According to Reuters, a Virginia farmworker sued Bayer and her law firm after she was allegedly excluded from her share of a $421.8 million block settlement. Her share was to be around $120,000.
If you or a loved one have been harmed by Roundup, call our team right now for a free case review. You may be owed money.
What Is Roundup?
Glyphosate is the most widely used agricultural chemical in history. This is almost entirely due to Roundup, which was developed in the 1970s. Use of Roundup was somewhat limited until Monsanto created glyphosate-resistant soybeans and other crops in the 1990s.
By selling the seeds for Roundup-resistant crops and Roundup itself, Monsanto increased the use of both Roundup and Monsanto's own seeds. The company made billions of dollars from combining these two product streams.
In the last 30 years, Monsanto (and later Bayer) has settled thousands of lawsuits in the U.S. and Europe over Roundup and claims about its safety.
Did you know?
Monsanto has claimed in advertising that Roundup was biodegradable, as safe as table salt, and only harmful to plants. All of these claims were found to be so false that the company had to withdraw the ads and pay steep fines for lying to the public.
In 2015, the International Agency for Research on Cancer (IARC) labeled glyphosate as a likely carcinogen. In 2019, citing the IARC study, France banned Roundup and glyphosate entirely.
In January 2023, Bayer voluntarily removed glyphosate from all residential products in the U.S. The chemical is still available and widely used in the United States commercially and agriculturally.
Can You File a Roundup Cancer Lawsuit?
Bayer may have settled thousands of cases, but new cases are being filed daily. This is because Roundup has been used increasingly over recent decades, all the while exposing people to potentially cancer-causing chemicals.
While there are many attorneys with the skills, background, and resources to hold Bayer accountable, they can only work with clients who qualify.
Qualifying for a Roundup Lawsuit
If you or a loved one used Roundup and became sick, you may be able to file a claim.
Individuals who developed non-Hodgkin's lymphoma or another type of cancer after exposure to Roundup may be able to file a Roundup personal injury lawsuit. This includes residential users as well as landscapers, agricultural workers, and others exposed in a commercial or agricultural setting.
The family members of people who became sick and died from Roundup use may qualify for a Roundup wrongful death lawsuit.
To file a Roundup lawsuit, you must show 3 things:
That you used or were otherwise exposed to Roundup
You were diagnosed with non-Hodgkin lymphoma or another type of cancer
That the exposure to Roundup most likely caused the cancer
Your lawyer can help you establish each of these points.
Of course, every case is unique. If you're unsure if you qualify, contact our team for a free case evaluation now.
Finding a Roundup Lawyer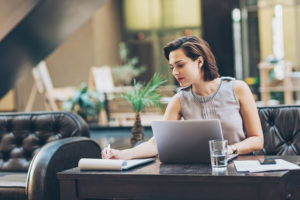 When you go forward with your Roundup glyphosate lawsuit, choosing your lawyer might be the most important decision you make. Roundup lawsuit attorneys will gather evidence, plan a strategy, and negotiate with the other side on your behalf.
They should be someone you're comfortable with and up for the job.
Before you agree to work with a Roundup lawyer, think about these questions:
Do they have the experience? A lawyer handling your case should have knowledge and experience working on Roundup lawsuits and other personal injury cases involving dangerous products.
Do they have the resources? Your Roundup attorney will be part of a team gathering data about you or your loved one and a giant company that's been operating for decades. They may have to travel to multiple states for legal proceedings and find and engage expert witnesses to testify on your behalf. They'll need to do all this while also keeping you informed about what's happening.
How much do they charge? Most personal injury lawyers work on contingency, meaning you pay nothing up front. After your case is resolved through a settlement or verdict, they keep a percentage of your Roundup lawsuit payout, if there is one. Regardless of how your lawyer bills, make sure you understand the arrangement before agreeing to work together.
What is their track record? Roundup lawsuits are a recent type of litigation, so many lawyers might not have a history with that specific case type. The Roundup law firm you're considering, however, should have a record of getting clients compensation in similar circumstances.
The law firms that work with LawFirm.com have gotten billions of dollars of compensation for clients in similar cases involving exposure to toxic products.
Help for Victims of Roundup
If you or a loved one has experienced glyphosate exposure and developed non-Hodgkin's lymphoma or another form of cancer, you may be eligible for compensation.
A Roundup lawsuit can help cover treatment costs and the expense of traveling to get medical care. In addition, this compensation can pay for some of the pain and suffering associated with a cancer diagnosis.
The Lawfirm.com team can help determine if you can file a personal injury suit against Bayer. If so, we can put you in touch with some of the best personal injury law firms in the country.
These firms have experience dealing with dangerous products and chemicals. They also have a national presence and can work with you wherever you are and hold Bayer accountable.
To find out how we can help, fill out our online form or call (888) 726-9160 to talk to our team and determine if you're eligible for a Roundup lawsuit.
FAQs About Roundup Lawsuits
When will Roundup settlements be paid?
Roundup lawsuit settlements are usually paid out within a few weeks or months of a settlement agreement being reached. Many of the plaintiffs in lawsuits that Bayer has settled have received their settlement payments already.
One of the benefits of settling a case is that both sides agree that the case is over and payment can begin. Other benefits of a settlement is avoiding the stress of a trial and the risk of getting nothing.
How long do I have to file a Roundup lawsuit?
The time you have to file a Roundup weed killer lawsuit depends on the statute of limitations in your state. Most states have a 1-3 year statute of limitations on personal injury and wrongful death suits.
Generally speaking, the statute of limitations for personal injury starts when you are diagnosed with a Roundup-related illness like non-Hodgkin's lymphoma. A wrongful death statute of limitations starts at the time of death.
How can I find Roundup lawsuit lawyers near me?
Depending on where you live, you may have difficulty finding a nearby lawyer to handle a Roundup cancer lawsuit.
Many of the Roundup lawyers we work with at Lawfirm.com have offices or associate firms in every state. If you or a loved one has been diagnosed with a glyphosate-related illness and needs to file a Roundup lymphoma lawsuit, contact our team to find the right legal team for you.
How much do Roundup lawyers charge?
Attorneys taking on Roundup personal injury or wrongful death lawsuits will usually work on a contingency fee basis. This means that you have no upfront or out-of-pocket costs. Instead, they cover the cost of your Roundup cancer lawsuit while you focus on treatment.
When the lawsuit is resolved, the lawyer will take a percentage of the compensation they secure for you. If your Roundup cancer lawsuit doesn't result in compensation, you never have to pay the lawyer anything.
Typically, Roundup attorneys who work on contingency have their fees accounted for in any settlement negotiations or demands. People usually get more even after paying a contingency fee than proceeding without a lawyer.
Is Roundup still in use?
Yes. Although Roundup is banned in France and other countries because of potential cancer risks, it's still widely used in the U.S.
Bayer removed glyphosate from Roundup for residential use in the U.S. starting in 2023, but the chemical is still used in Roundup for non-residential purposes.